Acme C Clamp Ski Boat Propeller Puller 330S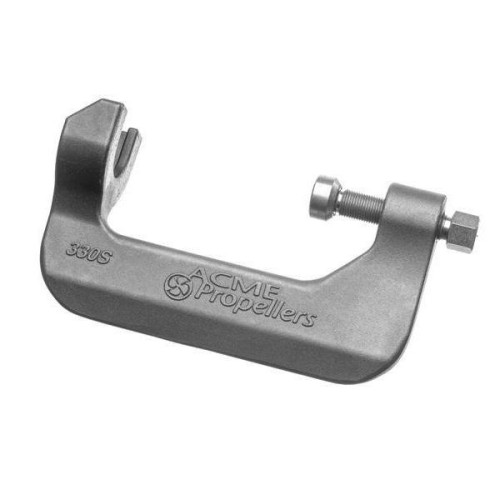 Acme C Clamp Ski Boat Propeller Puller 330S
3 Blade or 4 Blade
1.25", 1-1/4, Shafts
Max opening 5.25"
ACME MARINE GROUP PROP PULLER INSTRUCTIONS
(For the traditional style puller – Part #s 228S and 330S)
1. Remove the cotter pin. Loosen the prop nut two turns (do not remove the nut).
You want approximately 2 full threads of space between the nut and the prop hub.
2. Back out the prop puller bolt to allow for installation of the puller. The puller "fingers" slide between the forward end of the prop hub and aft of the strut (barrel portion). The puller bolt cap is positioned over the end of the shaft aft of the prop.
3. Advance the puller bolt clockwise (tighten) with a wrench. Do not over-tighten. The purpose of tightening is not to break the prop free, but to apply ample pressure on the end of the shaft and the forward end of the prop hub to transfer the shock, during impact, with a hammer. DO NOT USE AN IMPACT WRENCH.
4. Once the puller is firmly in place and the puller bolt is tightened down, hit the puller on the end opposite the bolt, with a hammer (it is also possible to hit the head of the puller bolt, hitting it on the finger end is preferred, to avoid causing damage to the bolt, cap, or bolt threads). It may be necessary to repeat steps 3 & 4. The hammer impact and harmonics should be enough to break the prop free from the shaft taper. Once free, remove the nut, prop, and key (if app).
5. When reinstalling the propeller, a very light film of grease or anti-seize on the shaft / bore taper is acceptable, but do not over-apply. Also, do not over-tighten the prop nut. Approximately 35 foot-pounds is sufficient.
Want to be sure you're paying the lowest price?
We guarantee it.

We are doing everything possible to provide you the best products at the lowest prices possible. Due to the high number of products in our store it is possible some of the prices on our products are not up to date.

If you find one of our products in stock. with a lower price than ours, please use this form. We will compare the prices and will offer you the product at the same price!
*Valid for U.S. websites only!
Please fill in the form below:
*
Required fields