PSS Pro 03-114-200 Dripless Shaft Seal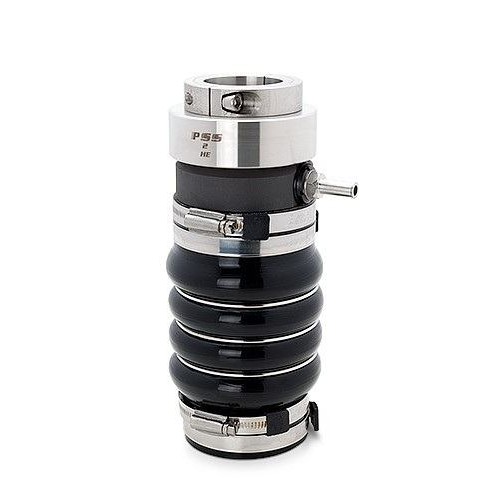 PSS Pro Shaft Seal #03-114-200 Shaft Size - 1.250" Stern Tube Diameter - 2.000"- 2.125"
The PSS Shaft Seal is the number one selling marine mechanical seal worldwide and is installed as standard equipment by many of the worlds most reputable boat builders / yards. The PSS Shaft Seal is also recognized as the premiere retrofit (aftermarket) seal on the world market. Certified by Bureau Veritas, ABS & Rina: Boat builders / yards recognize the advantages and value of installing the PSS as it eliminates the maintenance, constant adjustment & cost associated with traditional packing type glands. Aside from these benefits, the PSS Shaft Seal helps to eliminate water in the bilge (100% water tight) & wear to the propeller shaft. The PSS Shaft Seal can be easily retrofitted and is available for shafts ranging from 3/4" (20mm) to 6" (150mm).

The PSS PRO Shaft Seal is a mechanical face seal utilizing our proven stainless steel and carbon sealing components, but adds a reinforced silicone bellow, a secondary shaft retention collar, 316 Stainless Steel hose clamps (rolled edges & non-perforated) and an optional Nitronic 50 rotor upgrade (for highly corrosive environments). Designed specifically for applications that will require increased durability and resistance to harsh, corrosive, high pressure and otherwise demanding environments. The PSS PRO Shaft Seal is a specialized mechanical seal that is suitable for a variety of applications, with unmatched performance.
Want to be sure you're paying the lowest price?
We guarantee it.

We are doing everything possible to provide you the best products at the lowest prices possible. Due to the high number of products in our store it is possible some of the prices on our products are not up to date.

If you find one of our products in stock. with a lower price than ours, please use this form. We will compare the prices and will offer you the product at the same price!
*Valid for U.S. websites only!
Please fill in the form below:
*
Required fields
Size
Shaft Size
1.250" ( 1-1/4" )
Stern Tube Outside Dia.
2.000" - 2.125"